Cobra Kai Season 4 - The Loop
Play Sound
Robert Wade "Bobby" Nash[1] is a character on FOX's 9-1-1 who works as the Captain of Station 118 of the Los Angeles Fire Department. He debuts in the first episode of the first season of 9-1-1 and is portrayed by starring cast member Peter Krause.
Once a fire captain in the St. Paul Fire Department, Bobby relocated himself to Los Angeles after the devastating fire incident he inadvertently caused led to the deaths of his wife and two children. His record was wiped clean and he started over as captain of the 118, meeting his two closest crew members at the time, Hen and Chimney. He also met Athena at one of the first calls he responded while working as a member of the LAFD. A few years later, they began dating, and eventually got married.
History
Early Life
When Bobby was in school he took up figure skating and with his partner Heidi Shatsky, became Twin Cities Junior Pairs Champions three years running.[3]
Loosing his Family
Bobby injured his spine/back while on duty and as a result, had to rely on painkillers, alcohol, and drugs in order to cope with the lingering pain. His addiction continued for years to come with him returning to rehab every occasion when his wife found out. His addictions were so intense that he would attend work high or drunk. He even kept a separate "drug den" apartment five floors below the one he had with his wife and children, where he would go to drink. On one of his trips to his apartment, he accidentally fell asleep. When he woke up, he realized how late it was and in his rush, he forgot to turn off the gas fire heater. As his wife had had enough of him for the night, he was then kicked out of their apartment without the keys to his apartment and resorted to sleeping on the roof. This is when the gas fire sparked and ember and lit his blanket in his drug den alight. This then spread and by the time Bobby was woken up by the fire engine sirens, most of the apartment building was ablaze. He tried to go back to his apartment for his family but the firefighters removed him from the scene for his own protection.[2] His wife was taken to hospital where she was treated for severe burns, however, she succumbed to her injuries. His two children, Robert Jr. and Brook died at the scene. Overall, 148 people died in the fire.[1]
As a result of all of these deaths, Bobby fell off the deep end until he eventually returned to rehab, this time he managed to get his habits in control. As a coping mechanism, Bobby keeps a journal with him in which he documents the name of everyone that he has been able to save on the job. The journal had 148 spaces, one for each person he "killed" in the fire. He prohibits anyone from touching it and doesn't disclose what is into anyone. The reason for his counting is so that he can end his life once he has saved enough people to balance out the lives he accidentally took in the fire.[4] In order to get a job as a firefighter at Station 118, the record of him accidentally setting fire to his apartment building in St. Paul was wiped clean.[1]
Because of donating his blood during the blood drive Chimney organized, he finds out that he has a rare type of blood that has the ability to cure rhesus disease. He views this as a God's punishment because he is now obligated to stay alive and donate his blood for the rest of his life. However, Chimney helps him realize that it's not a curse, but rather a blessing that he is able to help out so many babies. The journal is later thrown out, still incomplete.
Personality
Bobby is shown as careful, decisive, and secretive. He is usually quiet, withdrawn, and keeps to himself, although in front of the 118 he is shown to be witty and a good sport when being pranked. Despite his more introverted personality, he is seen as a fatherly figure within the firehouse and most of his crew have all come to him for advice at some point.
Relationships
Bobby and Marcy were married until her death. They lived in St. Paul, Minnesota and had two children together. After Marcy and their two children died in the fire that he unintentionally caused, he moved to Los Angeles to start over.
Bobby first met Athena at one of the first emergency calls he responded as captain of the 118 after moving to Los Angeles. At the call, he handed Athena a rooster named Maurice after she asked for the assailant who stabbed the victim. They met again when the 118 responded to a fire caused at a restaurant, where Athena was also responding. They then ended up working together on the case and figured out the fire incident was actually arson. [1]
Having to work together often because of their professions, they got acquainted and through Hen, they all became friends. The two of them didn't get romantically involved until after Athena had divorced Michael and Bobby decided to start dating again. Bobby initially asked Athena to go to church with him when Athena asked him what she could do to help him through the day after they both had just witnessed a man die in an accident. They went to church together afterward and eventually went out on a date. [5]
After four months of keeping their relationship a secret, Bobby wanted to go public with their relationship but Athena refused because she didn't want to be embarrassed if their relationship didn't work out. That caused a rift between them but after talking with Michael, Athena came to the firehouse to apologize to Bobby and revealed their relationship to the other members of the 118 by kissing him in front of them. [6]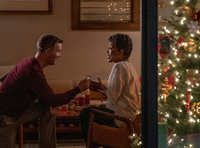 The two continued dating and after some time, Athena asked Bobby to move in as an attempt to take the next step in their relationship. That took Bobby by surprise and Athena even thought she scared him off. After taking a moment, Bobby came back to Athena on Christmas Eve and instead of agreeing to move in with her, he proposed to her; saying that he didn't want to take the next step but wanted to take every step with her for the rest of their lives. Athena happily accepted his proposal and they became engaged. [7]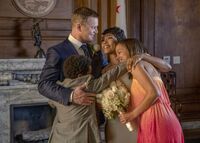 They started to plan their wedding after Bobby got temporarily suspended from his duties at the 118 but after the events of the serial bomber, he realized that, with both of them having dangerous jobs, there is no day but today so he asked Athena to wait no more to get married. They then went to a courthouse with May and Harry and got married. [8]
Trivia
Bobby is originally from Minnesota, the same state where his actor, Peter Krause, is from.
He is Catholic.
He has a huge phobia of needles.[4]

Ironically, his blood has a unique makeup which can be used to treat pregnant women and their fetuses with rhesus disease.[4]

In "A Whole New You", Bobby's Romance The Uniform page reveals that Bobby's:

Favorite color is red
Favorite dessert is flan
52 years old
A great cook
Favorite book is The Davinci Code
Favorite show is Friends
Favorit movie is Highlander
Favorite band is ELO
Favorite singer is Celine Dion
Favorite actor is Michael C. Hall
He does not like to travel
He enjoys taking walks in the rain

He is a fan of Bruce Springsteen. It is mentioned that he and Evan Buckley had gone to see one of Springsteen's concerts together. [9]
Bobby has appeared in every episode in the series so far except for Hen Begins and Chimney Begins, where he was shown only in flashbacks.
He has mentioned that he has a brother.[7]
His favorite subject is science.[10]
He has been a firefighter for almost three decades.[11]
Appearances
Note:
* denotes archive footage only appearance.
References