We're Getting Mutants in the MCU - The Loop
Play Sound
Athena Grant-Nash (née Carter) is a character on FOX's 9-1-1 who works as a field sergeant in the Los Angeles Police Department. She debuts in the first episode of the first season of 9-1-1 and is portrayed by starring cast member Angela Bassett.
Athena was married to Michael Grant and has two children, May and Harry. She is now married to Bobby Nash.
History
Early Life
When Athena was 9, her father, Samuel Carter and the rest of the street she lived on helped look for a missing girl named Tanya Kingston, who was in the grade below Athena. Tanya had been kidnapped from her bed. The only trace of her they found was a hair clip in the woods. Athena saw how hard losing a child hit the little girl's parents and vowed to become a police officer so that she could find the little girl and reunite her with her parents.
College Life and First Engagement
As an adult, she later moved to Los Angeles. She was attending law school at University of Southern California in 1989 instead of her previous desire to become a police officer. At a job fair, she and her friends ran into Emmett Washington who was there trying to recruit people to the force on behalf of the LAPD. Athena found it a waste of time, refusing the idea of someone upending their whole life just because someone hands them a flyer. Before leaving, Emmett gave his number to Athena, in case they changed their minds.
Later that night, Athena had dinner with her mother Beatrice, who had come all the way from Florida to visit her. Beatrice told her about her desire to want to move to California in order to stay closer to her, and Athena could help to convince her father by promising grandchildren. Athena stopped her, letting her know that she wanted to finish school first, get a good job, then get married and have kids much later. Beatrice also let her know that Tanya Kingston's mother has passed away from cancer but she believes that she died from heartbreak, as she had never gotten over her daughter going missing. Remembering her desire, Athena decided to meet up with Emmett for dinner on the recruitment. Emmett told her the department's goal was to get 20% female officers and there was only about half now. Athena worried that she will stick out, but he reassured her she will stand out regardless. Emmett began to tell her how he decided to become an officer, on making a difference in the world which inspired her. Six weeks later, she quit law school and began dating him shortly after.[1]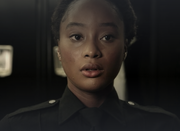 On her first day, she was partnered with Officer Brogan McCluskey, who was reluctant about her efforts due to many of the female recruits he has trained left the force after getting married and have children. Athena assured him that she will do her job well and took on the challenge. She impressed him with her efforts the first day but got in trouble for denting one of the cars. As time went on, McCluskey and her grow into a close partnership and her efforts helped lower the number of incidents in officer-involved shootings in the decade.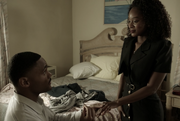 During a New Year's stop with McCluskey, Athena was approached by Emmett, who told her they were not in their sector. He asked her out to dinner that Sunday for a surprise and she accepted. While getting ready for dinner, Emmett tried to find the phone to call the restaurant as they were running late. Athena helped look for the phone and found it, but accidentally found an engagement ring under his clothes as well. Surprised, Emmett decided to propose to her in the room and she happily accepted.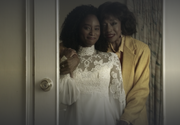 Sometime later, Emmett called Athena on what kind of dinner to pick up for their meeting with Beatrice. Athena asked him for a favor to pick up cream for her mother's coffee as well, to which he accepted, thinking he would "rack up future son in law points". After they hung up, she told Beatrice it bought them more time, as in reality, she wanted more time to look at her wedding dress with Beatrice helping her. Happy for her, Beatrice told her Emmett is a good man and she knew they will have a wonderful life together.
A little while after that, she received a phone call that led her to a convenience store, where she found Emmett's body, having been gunned down in a "wrong place, wrong time" robbery. Devastated, she went off herself to be the one to break the news to his mother, whom she had grown close with.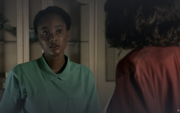 The case itself and the identity of the killer haunted her for the next thirty years and it convinced her to remain as an officer, along with seeing footage of Rodney King's arrest and the riots that resulted from it. She expressed these wishes to Beatrice, who was angry at her choice and believed that she will follow Emmett into the grave if she continues, and the reason she joined was because of him. Athena rebuked this, telling her she was staying, because more cops like herself would be there, and less like the bad ones. She told Beatrice it was not her decision, and neither her business as well. This drove a rift into their previously close relationship as well.[1]
Divorcing Michael and May's Suicide Attempt
Athena eventually married Michael Grant and they have two children, May and Harry together. Fourteen years later, he came out to her as gay and she had trouble coming to terms with it especially when she was told that he was seeing someone behind her back. Going to couples therapy together, Athena went in there with the hopes that the two could continue their marriage as they both still love each other even though that meant that they would have to live without sex. Michael however, didn't feel the same, especially as he has met another guy.
Another day, Athena prepared the kids for school when May was apparently sick. Going into her room to see about her, she found that May had taken some pills that belonged to her.[2] Panicking, Athena called 911 and May was rushed to the hospital where she recovered and told her parents that it wasn't just because of Michael coming out of the closet, it was also due to her life at school as she was being bullied. With the addition to the chaos, Child services arrived and told Athena and Michael to leave as May was being assessed due to her suicide attempt.[3]
At first, Athena tried to stay married to Michael for the sake of their children. But after realizing that she would become too resentful and hateful towards Michael if they stay married for longer, she decided to divorce him.[4] They divorced amicably and maintain a close friendship afterward.
Marriage to Bobby
At the scene of a motorcycle accident, Athena approached Bobby and comforted him after she saw him leaving the scene shaken up. She asked him what she could do to help him and agreed to go to church with him after he asked her to. At church, they reflected on their lives and prayed together. Later on they went on a date and began dating in secret. About four months later, Bobby wanted to let everyone else know about their relationship, but Athena refused, afraid of embarrassment, how long the relationship would last, and being hurt again as a result of feeling her marriage to Michael was a failure. After talking it out with Michael, she apologized to him and revealed their relationship to the other members of the 118.[5]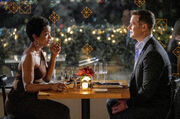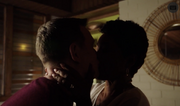 As the months passed, they grew closer and Athena asked Bobby to move in. Upon being asked, he reacted with surprise at first, and she told him she wasn't trying to pressure him, but that she was open to having him in her life in an even closer way. After thinking it over for a while, Bobby instead later proposed to her, which she accepted quickly.[6]
Their wedding plans, however, ran into a couple of issues, ranging from her strained relationship with her mother when she visited, along with the threat of a serial bomber running amok town. Ultimately, Bobby realized that there was a lot of pressure around them so, they decided to get married quickly at the courthouse.[7]
Bringing Emmett's Killer to Justice
Almost 30 years after Emmett's death, the murder weapon from his case resurfaced and that drove Athena to finally bring the person who killed her former fiancé to justice. The gun went through a lot of the owners since 1991 and she had to trace back all of them, but she was eventually able to locate the person responsible for Emmett's death. The man is named Dennis and Athena learned that since the accident, he's gotten clean from drugs, become a member of church, and even won several awards for helping at-risk kids. She said to him that Emmett would be impressed with the life he has built but for her, she can't look past the fact that he built it on the back of a dead man. Dennis then said to Athena that she has carried his burden for almost 30 years and it's time for him to take it back. She then brought him to the station and watched as he confessed.
Athena later went to Emmett's mother's house and told her that they've made an arrest. After getting the closure she needed, when she got home, she finally broke down in Bobby's arms as he held her. As a result of investigating the case on her own, she got suspended from work for a little while.[1]
Attack and the Aftermath
Athena arrested a man named Jeffery Hudson for flying a drone over a private property without his remote pilot license. At the station, he was handed over to FBI, but Athena asked an officer to get a warrant and do some digging as she felt something was not right. By the time Athena found out that Jeffery was a serial rapist who used his drone to stalk his targets before he raped them, he was already released from custody with just a warning.[8]
She joined a task force to bring him into justice and on the evening of May 4, 2020, she eventually found him at a self-storage. She at first didn't know if Jeffery was inside the self-storage, but saw that the door of the facility was suspiciously wedged open, so she went in to check without any backup. Inside, she found a makeshift bed and while she was asking dispatch for backup, Jeffery came up behind her and ambushed her. He started attacking her brutally, but Athena managed to shoot him in the groin and get him arrested.[9]
Athena was brutally attacked and brought to the hospital where she stayed for four days to recover. After the attack, Athena was traumatized and she saw Dr. Kara Sanford, a victim advocate, to help her with the trauma and get back on the job. After taking six months off work, she eventually returned to work.[10] It was later revealed that she was offered retirement after the attack but dismissed it.[11]
Harry's Kidnapping
After over a year since the attack, Jeffery's case went to trial, and Athena was called to testify in court. Amidst the chaos around the ransomware attack, Jeffery managed to escape from the court and sought revenge on Athena. While she was busy at work due to the citywide blackout, Jeffery came into her home and took her son, Harry, who was there. Athena and the 118, who were helping her find Harry, had Jeffery cornered at a metro station. There, Athena shot Jeffery in the chest after he threatened to shoot Bobby. He died on the spot before Athena could get him to tell her where Harry was, but with May's help, Athena and the team figured out where Jeffery hid Harry and found him walled up alive at an abandoned site.[12]
After the kidnapping, Athena was frustrated because of Harry blaming her for what happened to him and refusing to talk to her. They both went to therapy to deal with their traumas, and after some time, Harry started to heal and they reconciled.[13]
Personality
Athena is blunt, devoted, tough, and able to think outside of the box. She's very accomplished and professional. She sees things as black and white; either it's right, or it's wrong. She never gives in on the job, and she's described as working too hard for her own good. In her personal life, she's motherly and caring, and has shown again and again that she cares for her family and children. She thinks quickly about how to settle or neutralize a situation, and it may not be straight by the book.
Relationships
Before the series began, Athena was attending law school but was convinced to join the police force by her then-boyfriend Emmett Washington in 1989. They eventually fell in love and became engaged. Things turned tragic, however, after Emmett was killed during a robbery in 1991, a case that haunted her and convinced her to remain as an officer, driving a rift into her relationship with her mother.
Athena was married for 14 years[14] to Michael Grant and has two children, Harry and May. However, their relationship deteriorated as a result of him coming out to her as gay. They both tried to keep their family affairs normal for their children at first, but Athena eventually decided to divorce Michael and they remain close friends.
Athena first met Bobby circa 2014-2015 when a call about a stabbing by an unknown assailant had them responding at the scene. The "unknown assailant" was a rooster that Bobby handed to Athena when she asked who stabbed the victim. They later would often work together as emergencies went along.[15]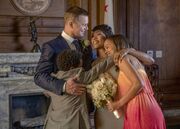 They became romantically involved after Athena and Michael decided to get a divorce, and Bobby decided to start dating again. After Athena comforted Bobby at the scene of an accident, they went on a date and then began dating in secret. As time went on, they grew closer and closer to each other and eventually got engaged on Christmas Eve of the same year they started dating. They later secretly wed happily at the courthouse in the presence of May and Harry.[7]
Athena met Hen during an emergency, and the two quickly bonded, as they were both minority women in white, male dominated fields. They eventually became close friends and often ask each other for advice.
Trivia
She is the only character on 9-1-1 who so far has appeared in every episode of the series.
Before the series aired, there were multiple press releases where Athena was credited as a detective instead of a sergeant.
Athena's badge number is 1275 (a reference to I-275, the freeway that runs through Angela Bassett's hometown of St. Petersburg, Florida). Sgt. Grant's unit number is 727-L-30 (727 is St. Petersburg's telephone area code).[16]
Athena is originally from Florida, which is also the home state of Angela Bassett.
She is Baptist.[17]
She is an only child.
She and Bobby live at 1810 Fallsgrove Street, Los Angeles.[18]
In "Athena Begins", young Athena is seen wearing a Delta Sigma Theta Sorority sweatshirt, implying that she is a member of the sorority. That is a reference to the fact that Angela Bassett is an honorary member of the sorority in real life.
It was confirmed in "Alone Together" that Athena hyphenated her last name following her marriage to Bobby. However, she still uses the name Athena Grant professionally.
Appearances
Season Three

"The Big Chill"
"Thin Ice"
"Shock and Thaw"
"Push"
"Child Care"
"The ATX-Files"
"Red vs. Blue"
"In the Unlikely Event of an Emergency"
"The Bird"
"Parental Guidance"
"Prince Albert in a Can"
"Negative Space"
"Riddle of the Sphynx"
"Impulse Control"
"Down To Clown"
"Shift-Less"
"Spring Cleaning"
"A Bright and Cloudless Morning"
References